Painted Baths
ALL OUR BATHS CAN BE PAINTED
We can expertly spray paint any white bath from our huge range.
We prepare the surface of the bath for our paint with great care.
We apply a trade quality primer and 4 to 6 top coats of eggshell for a matt finish that is washable and knock restistant.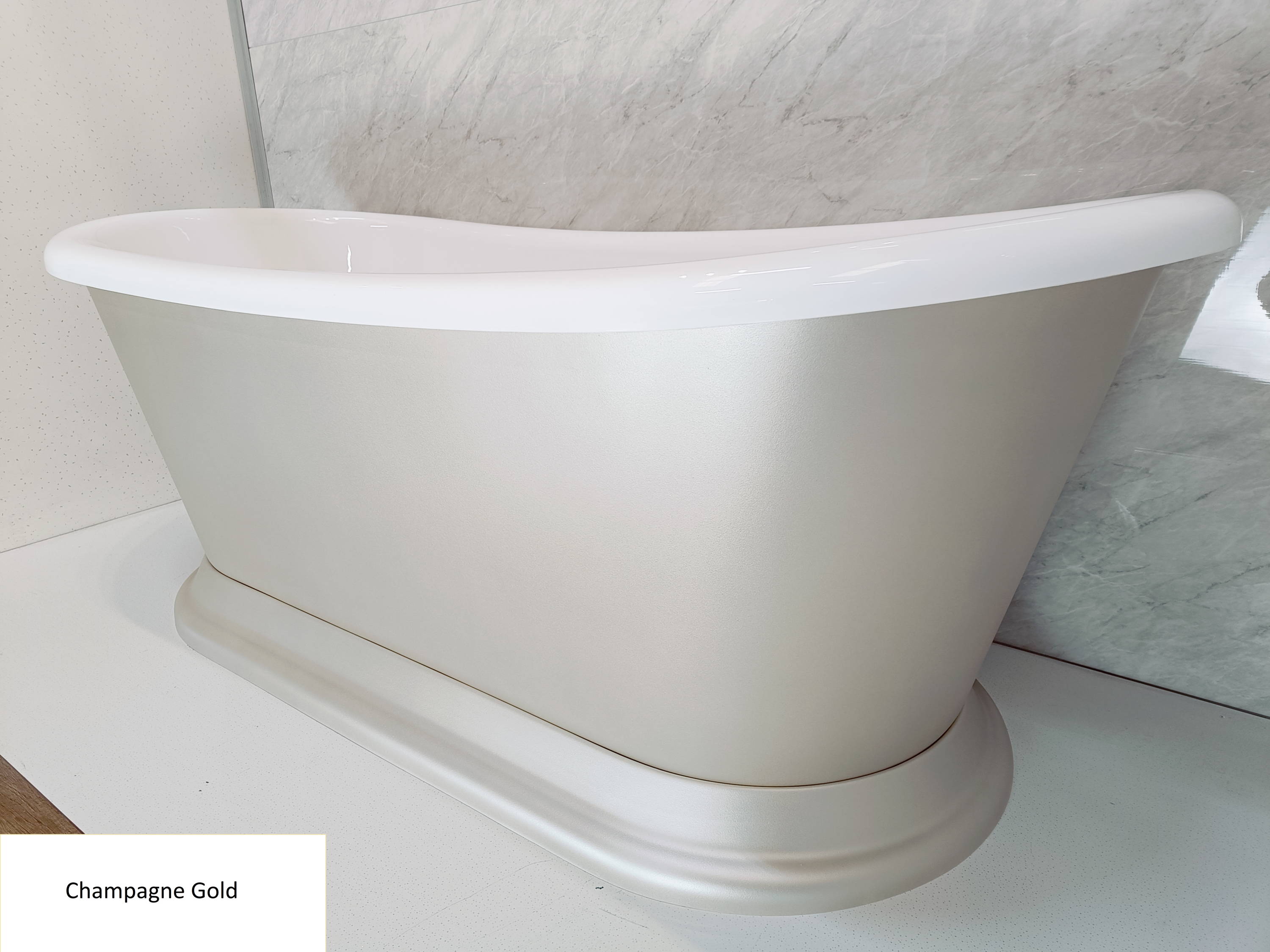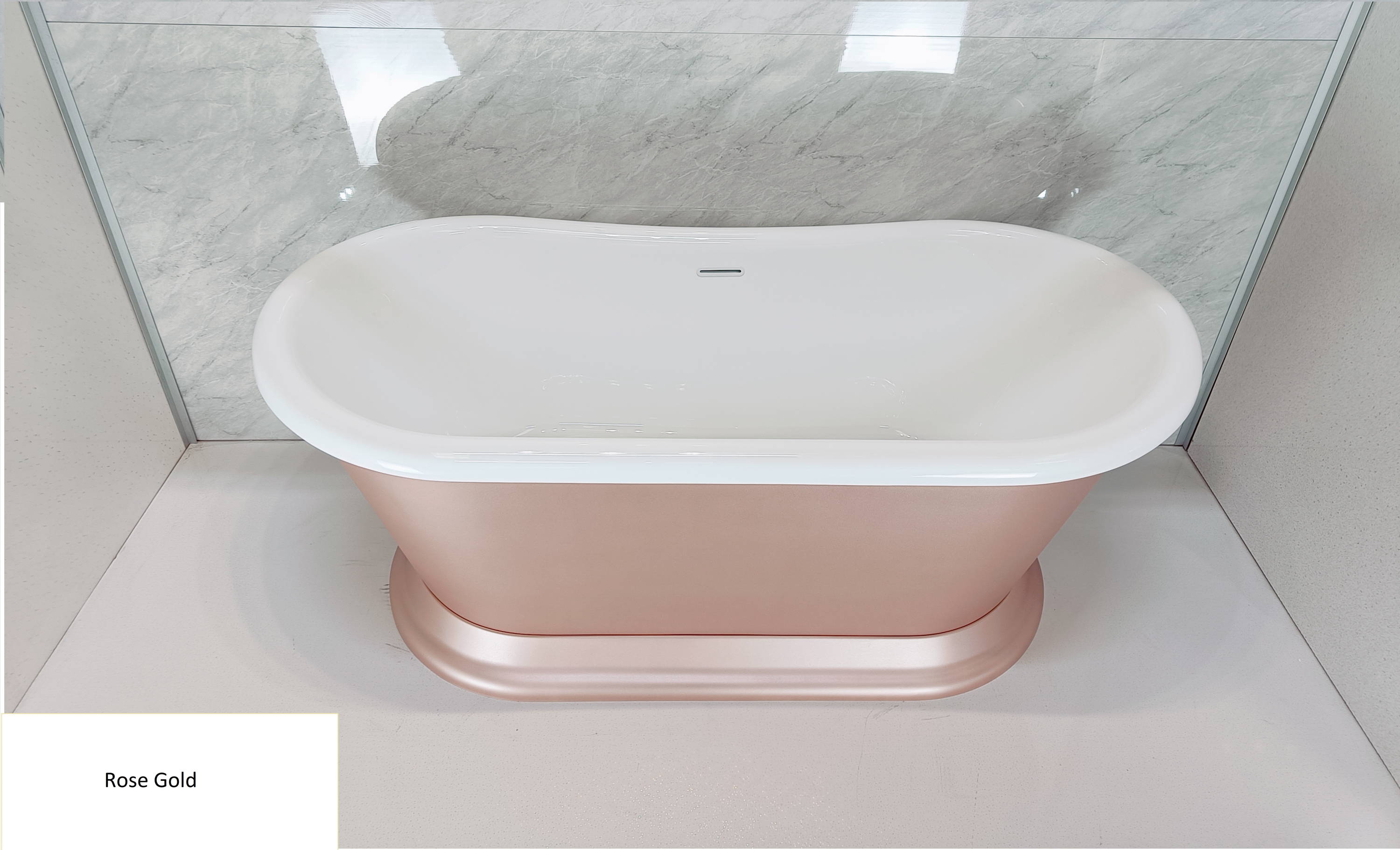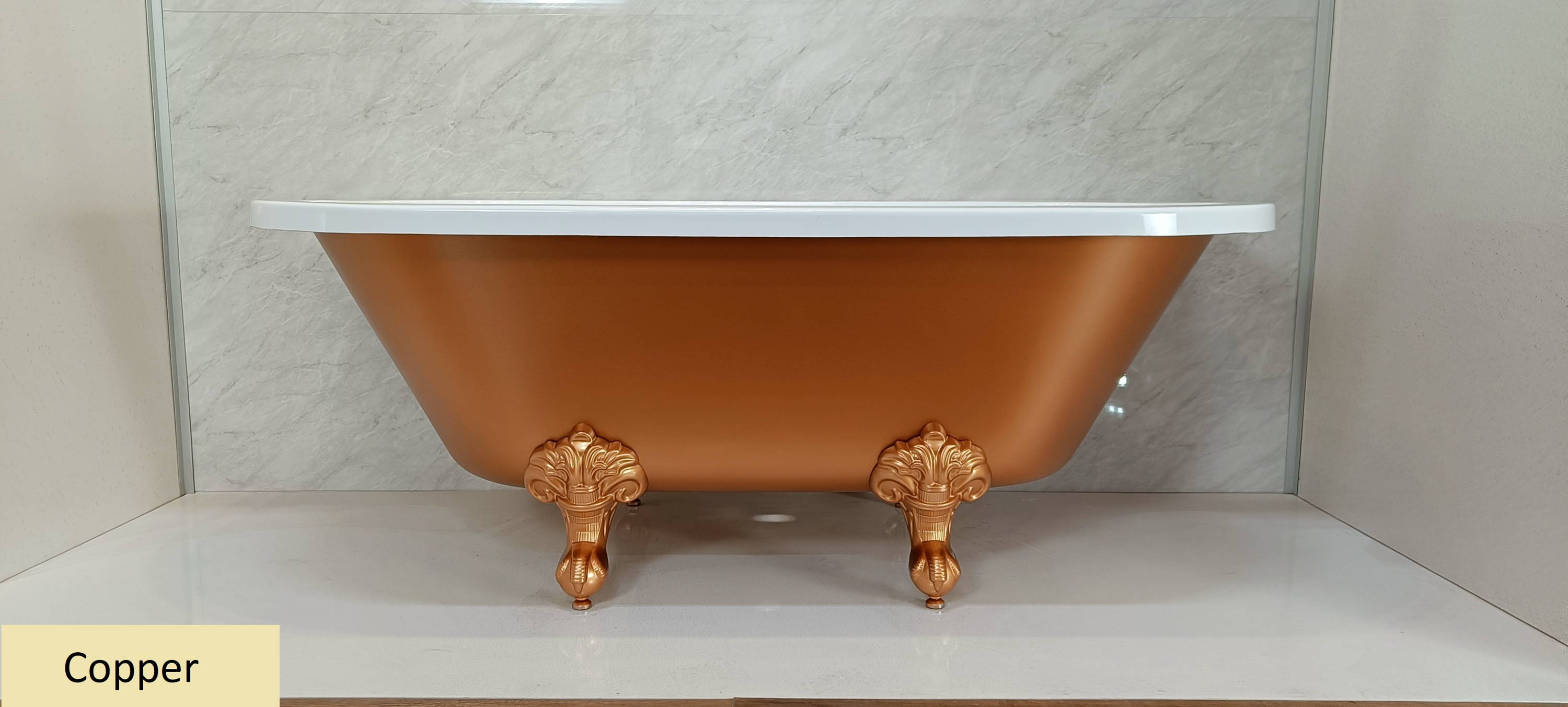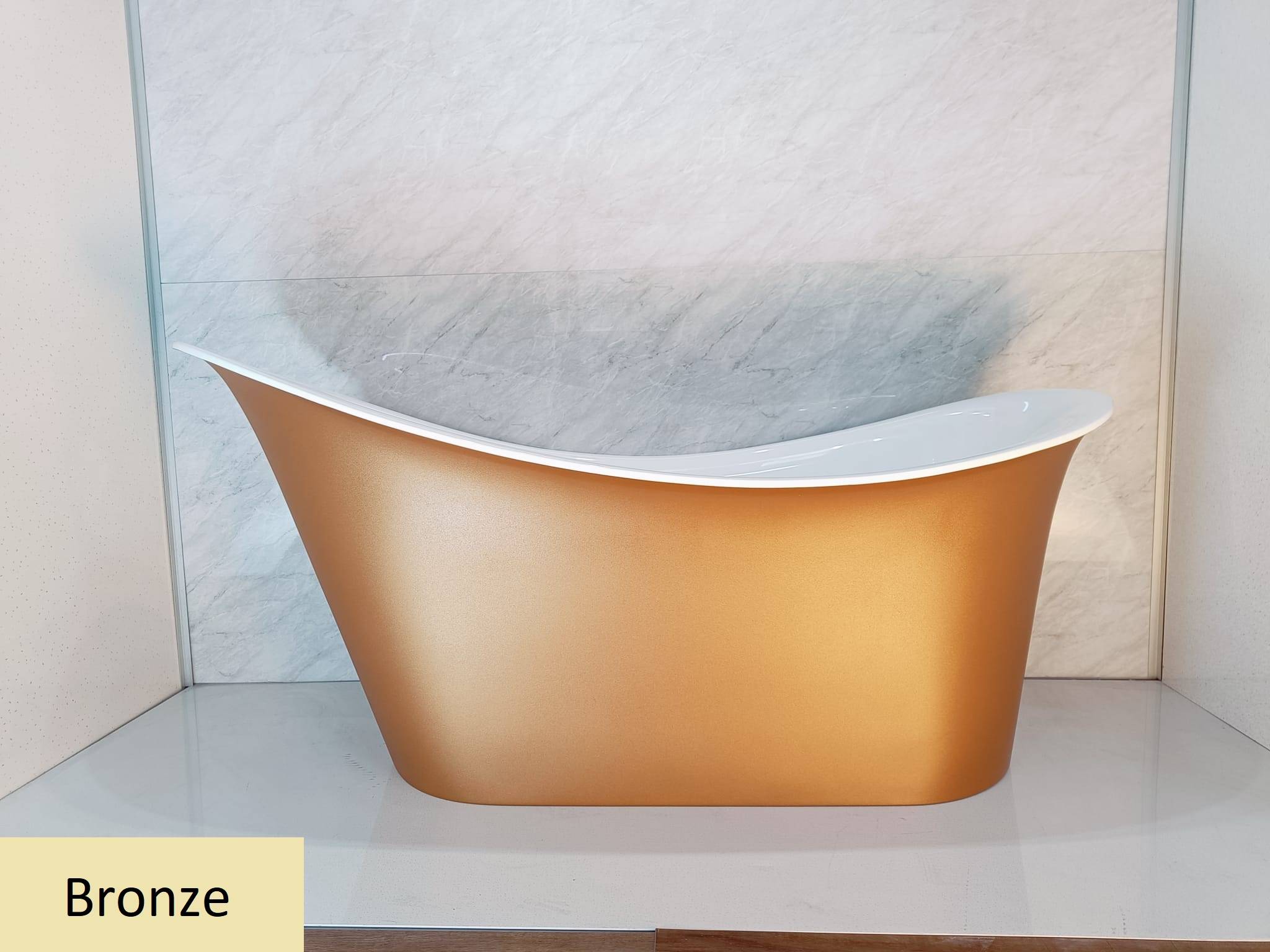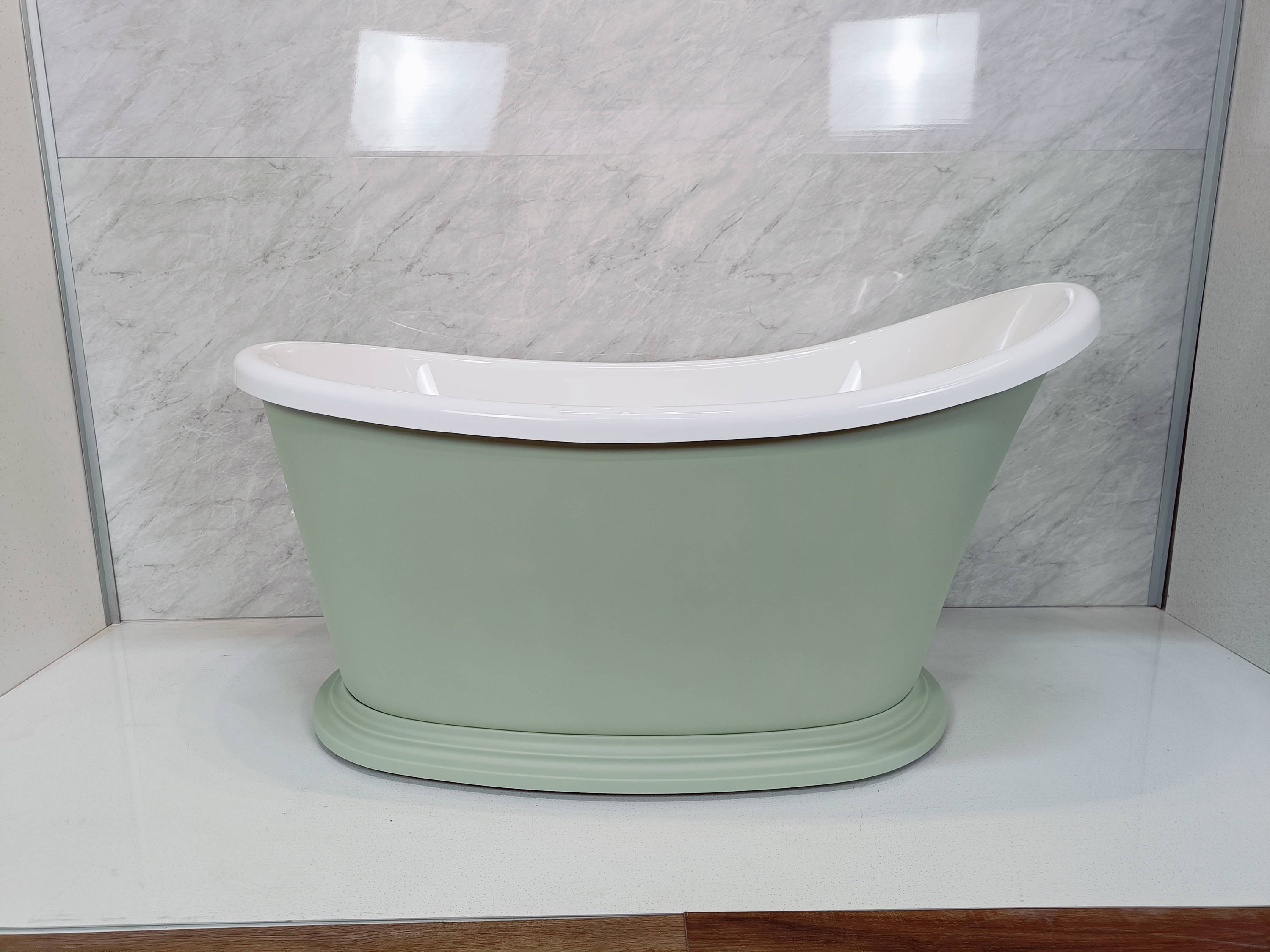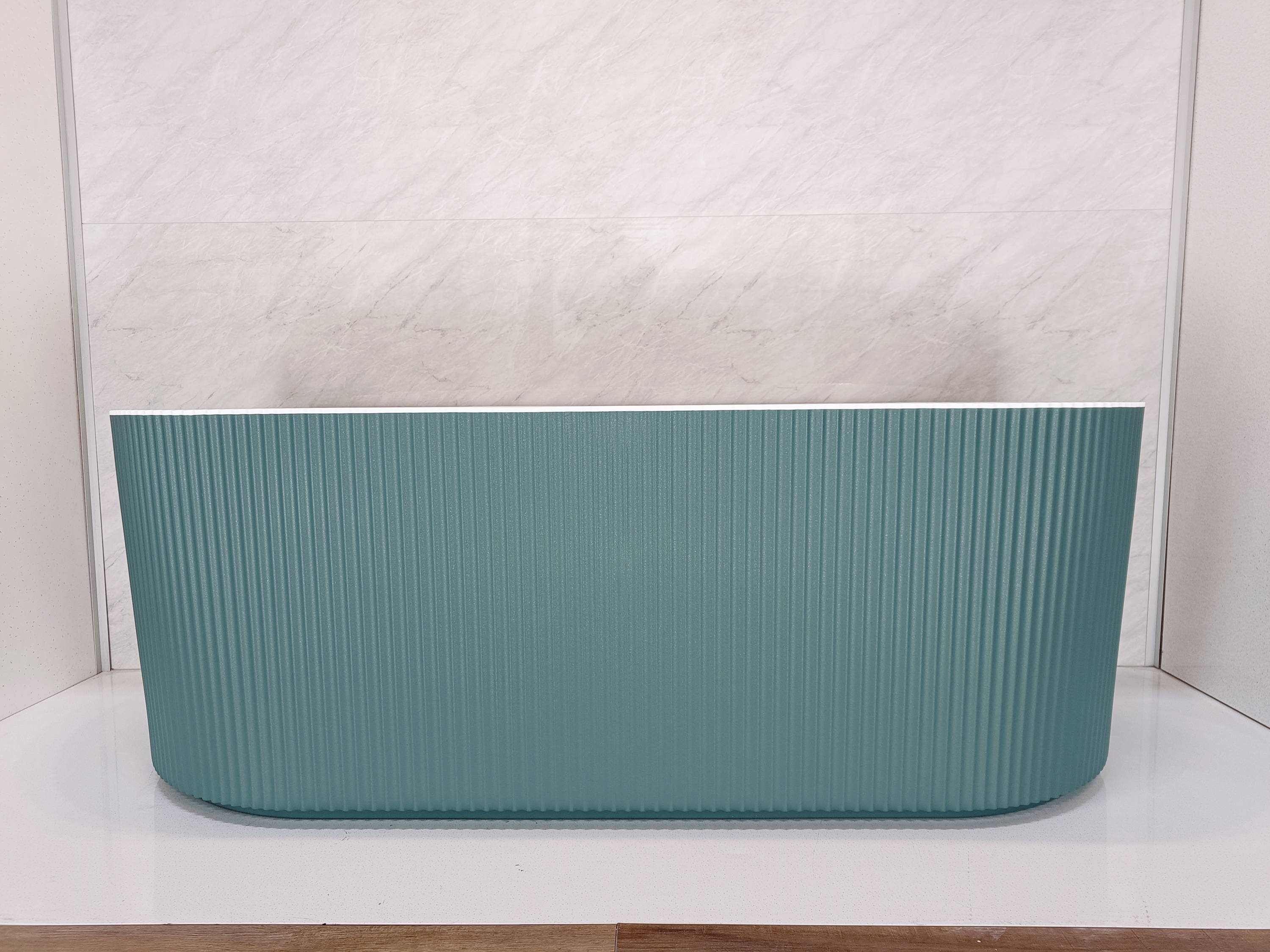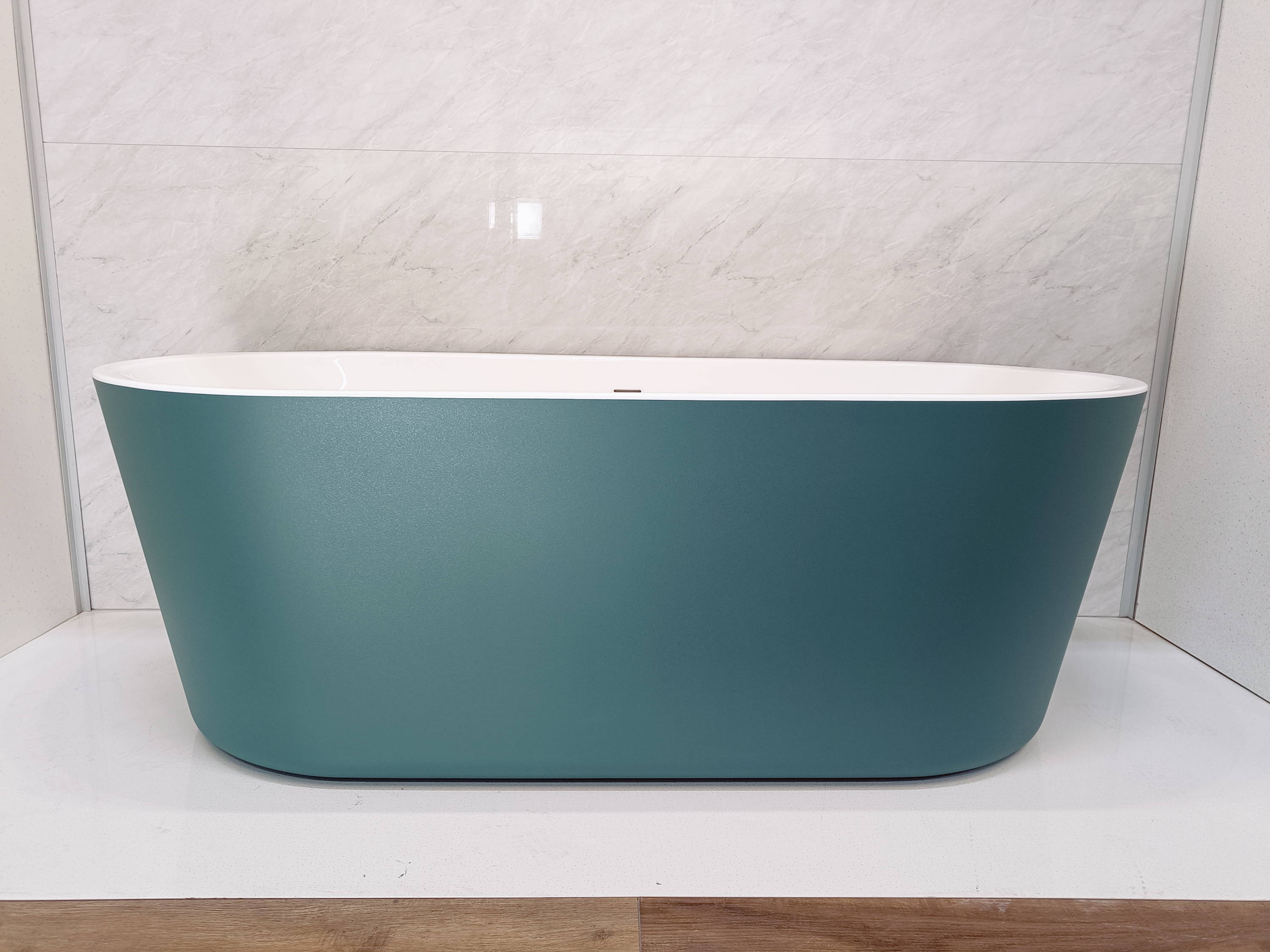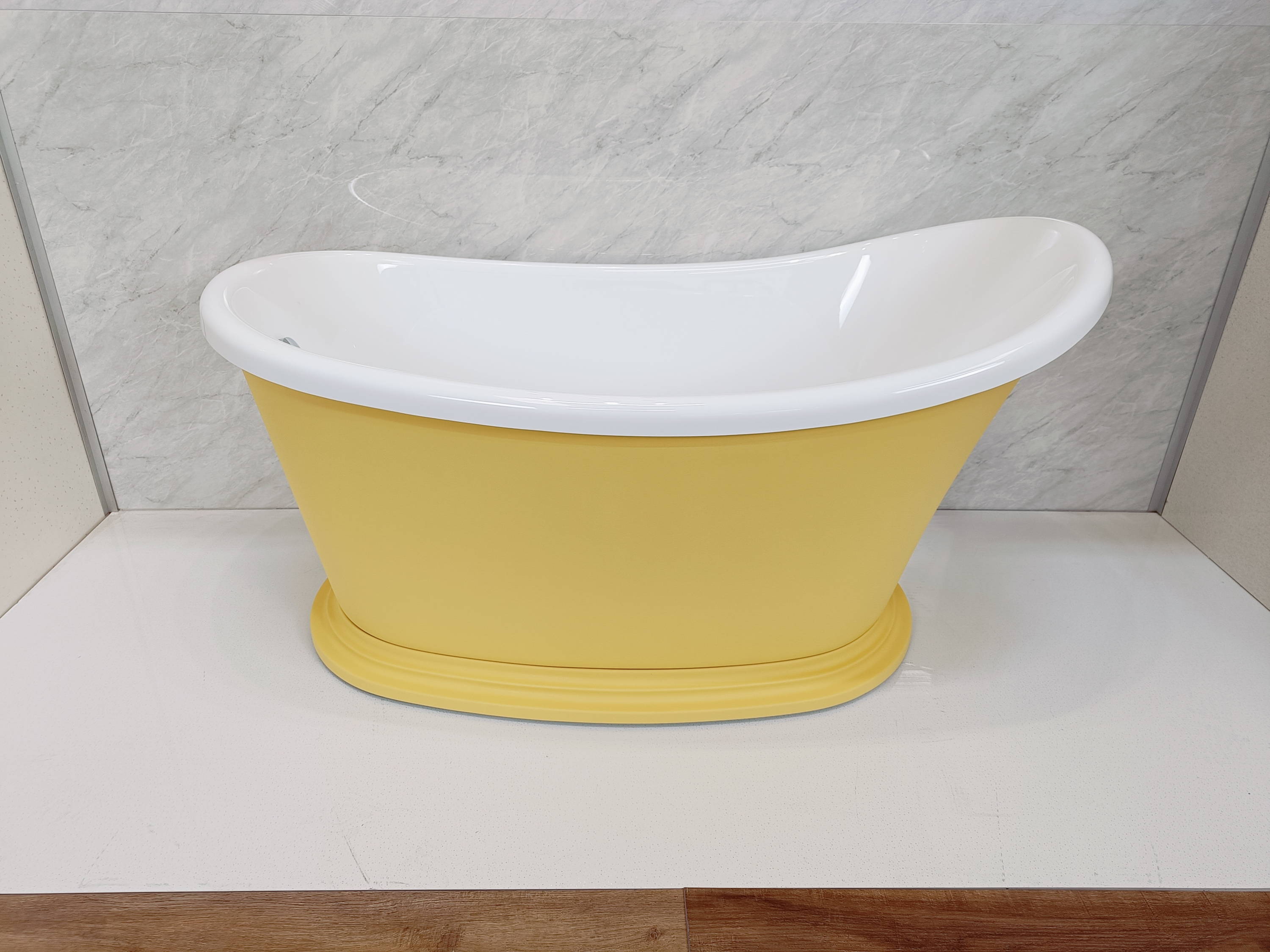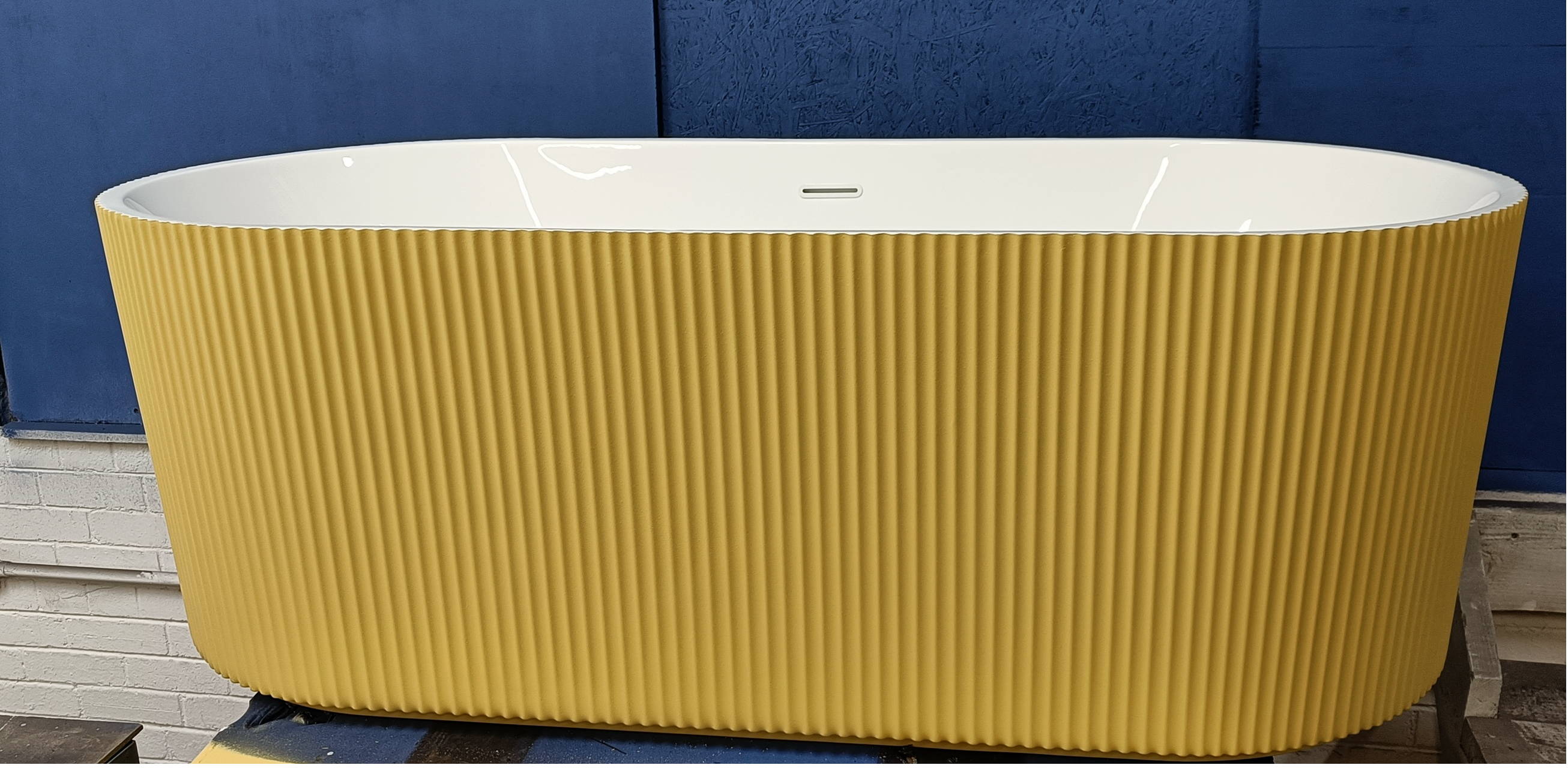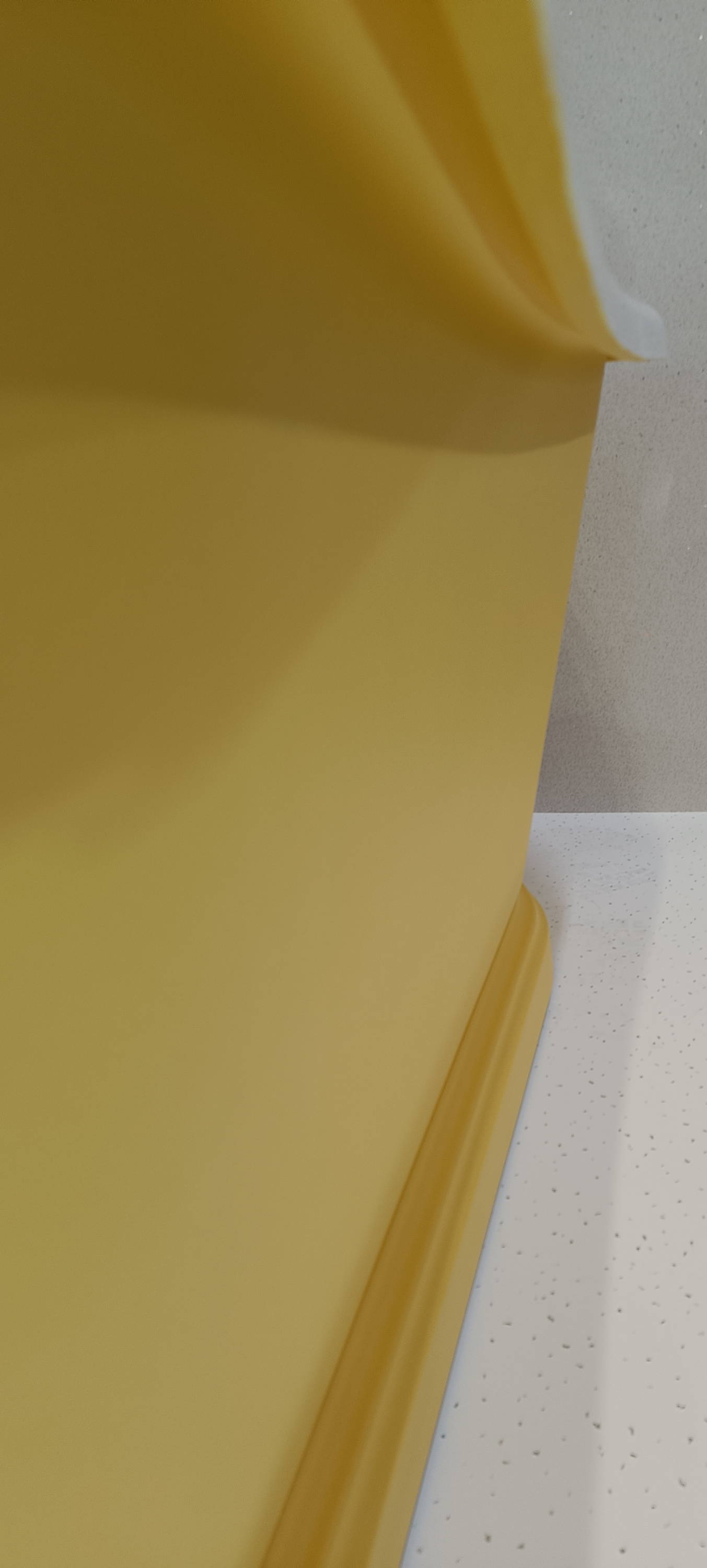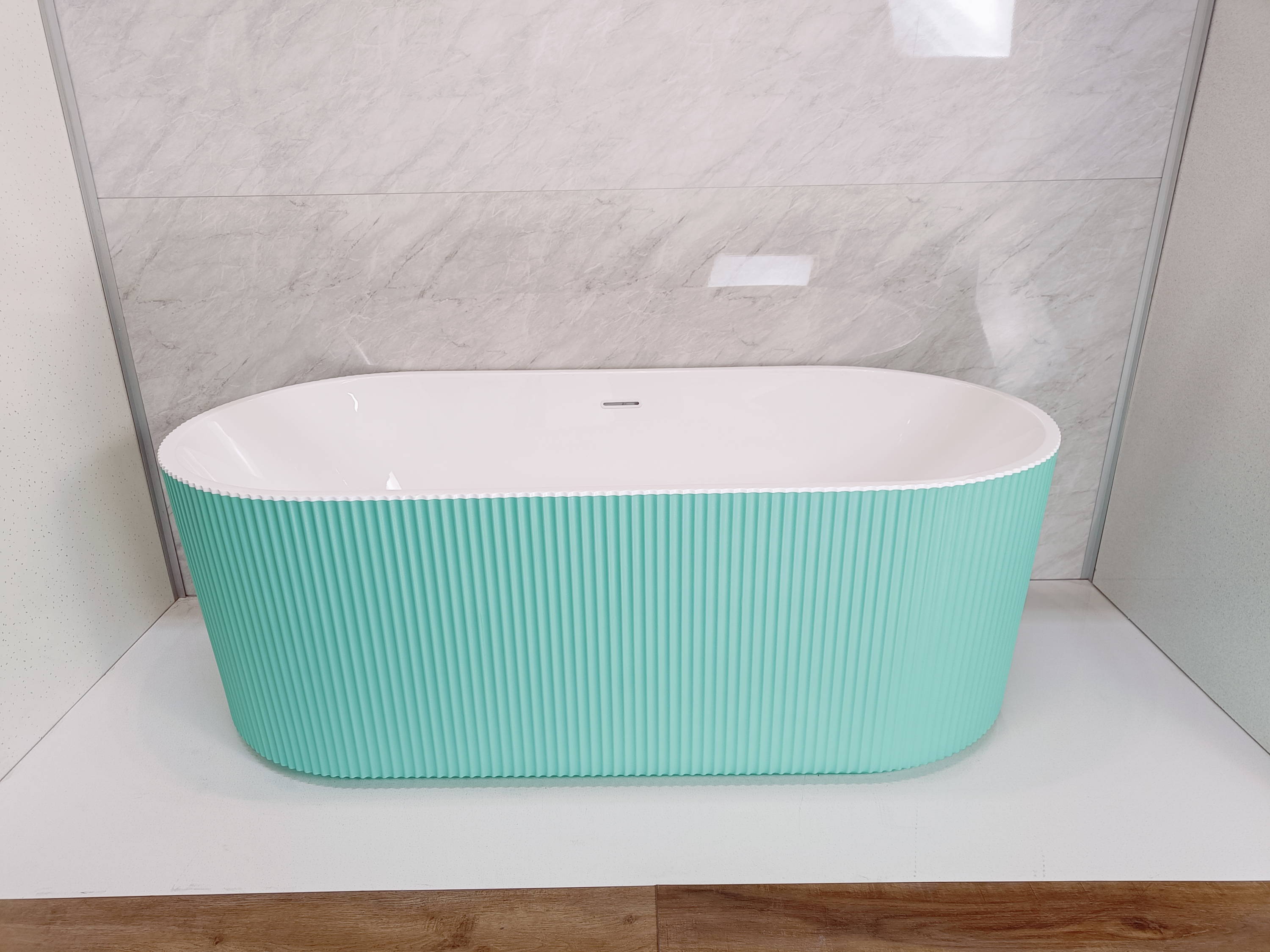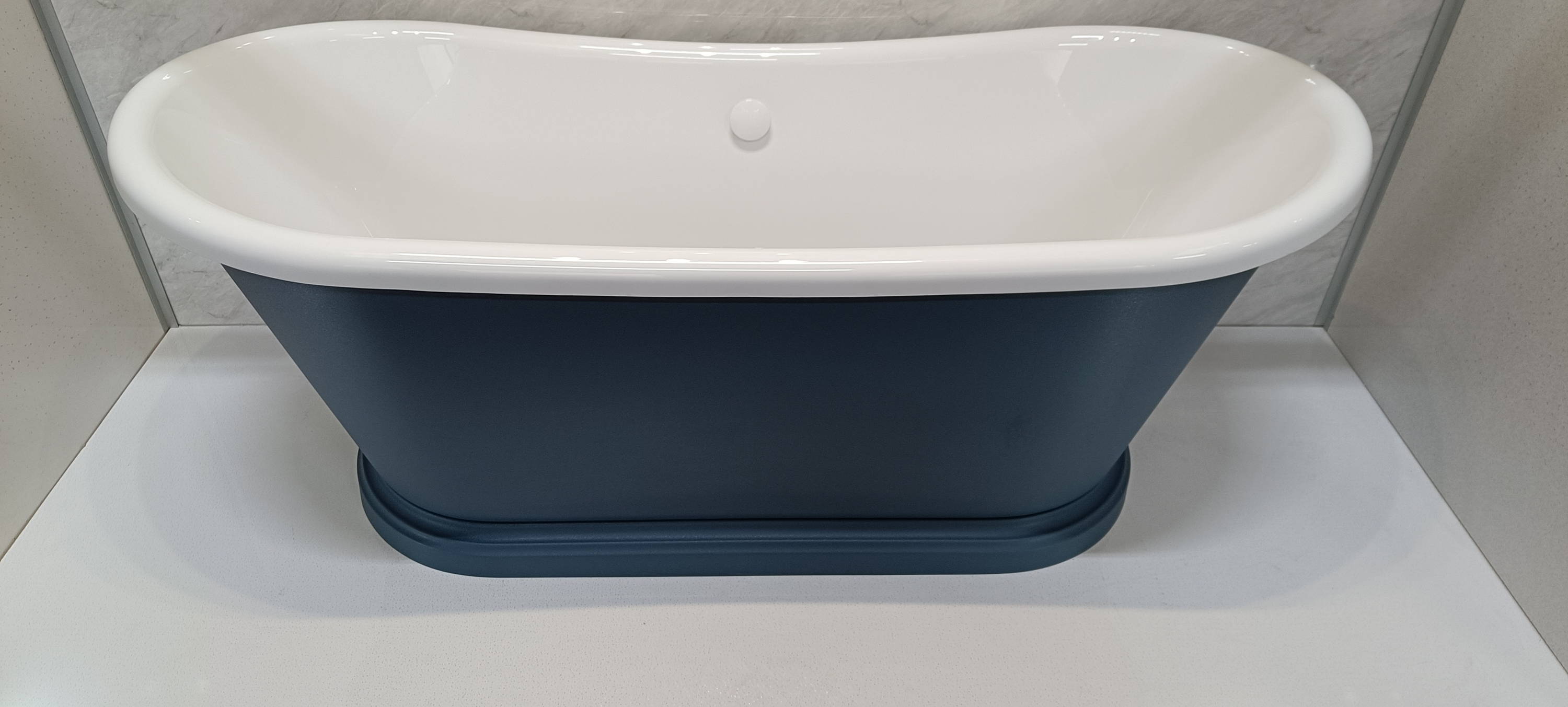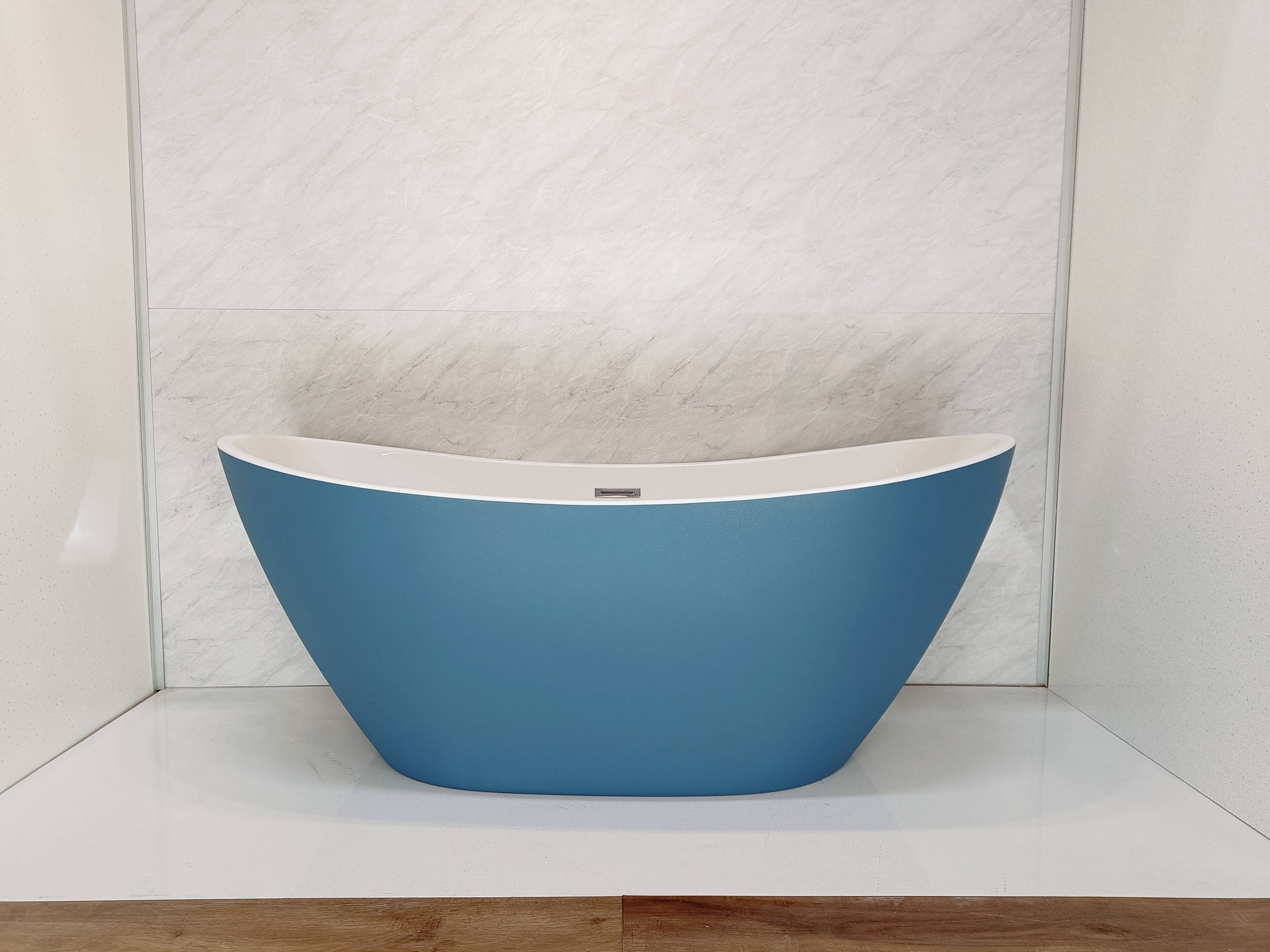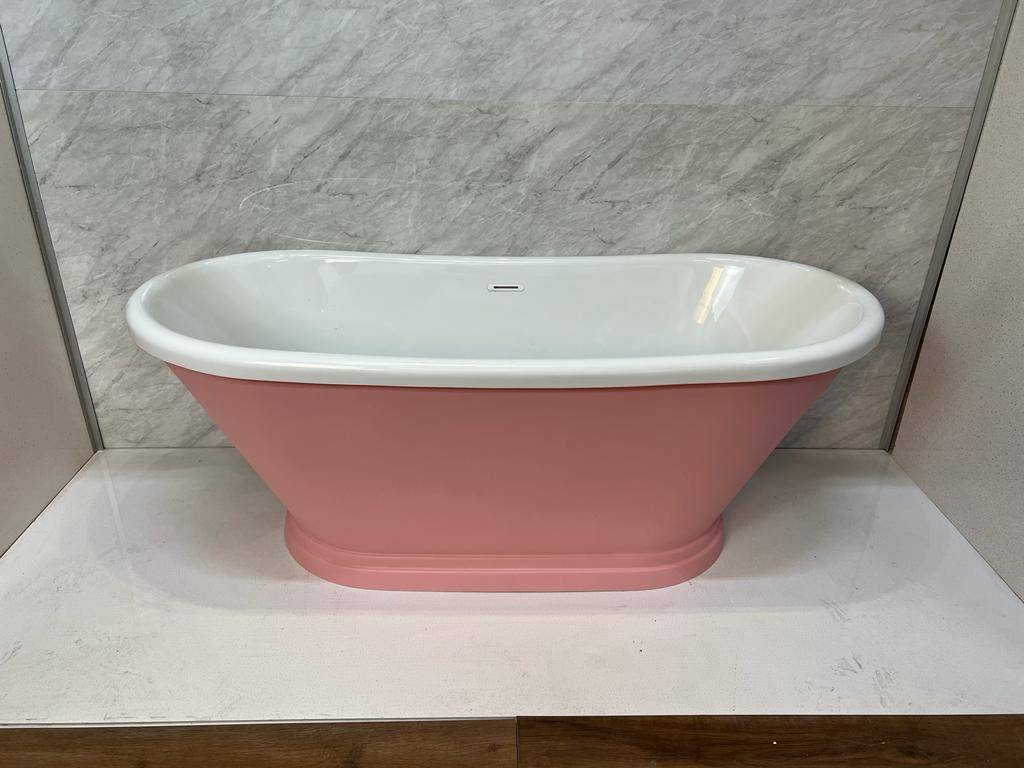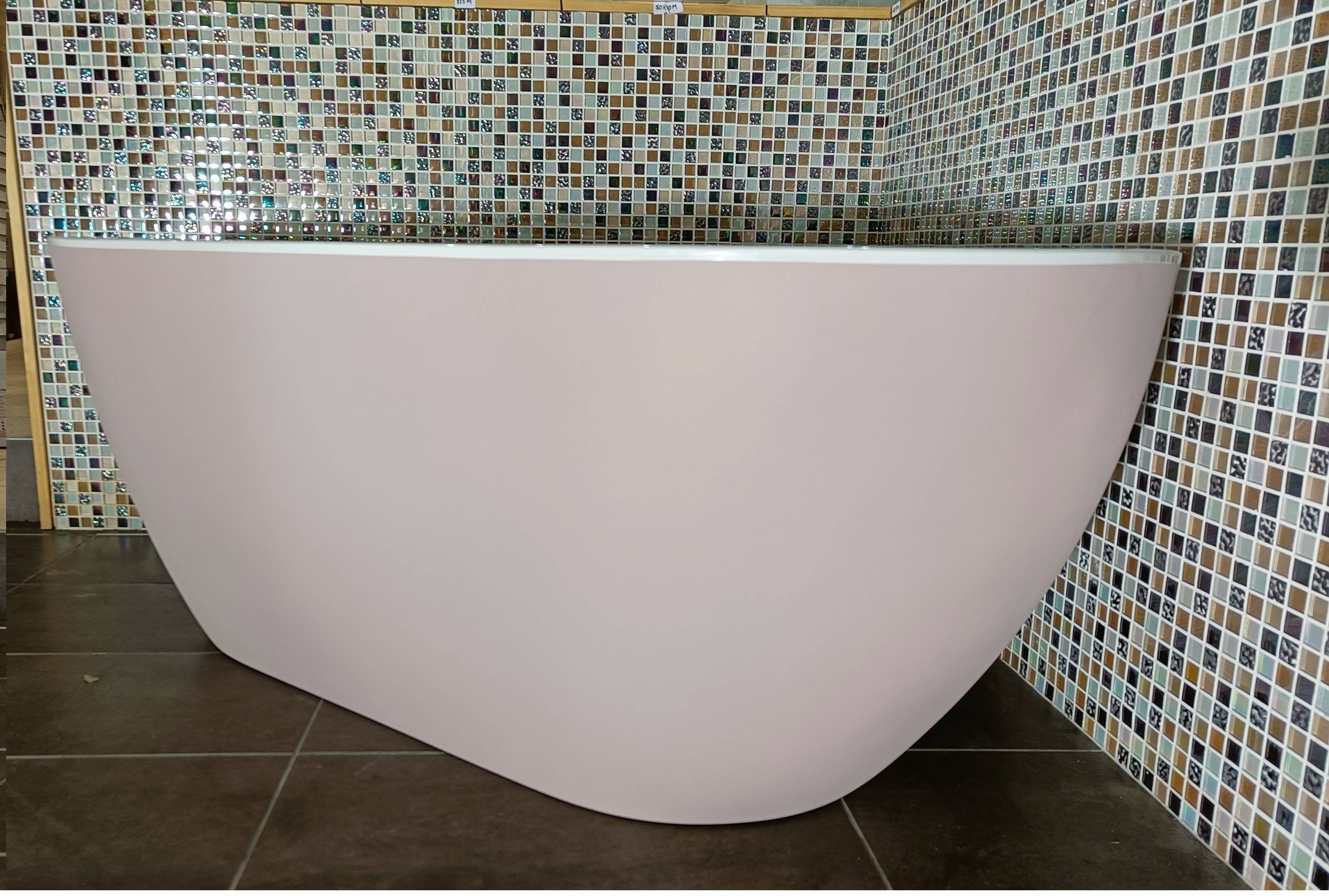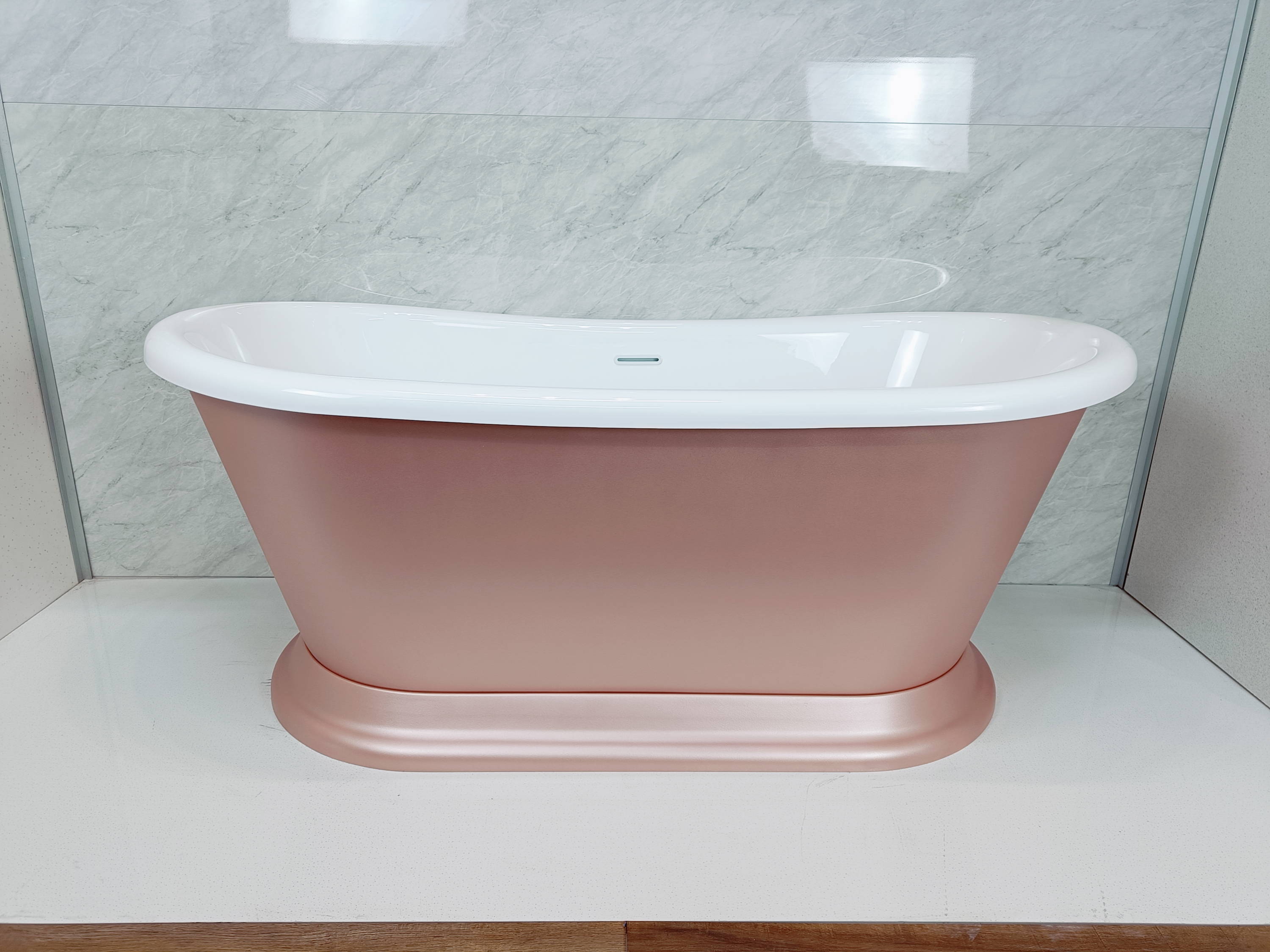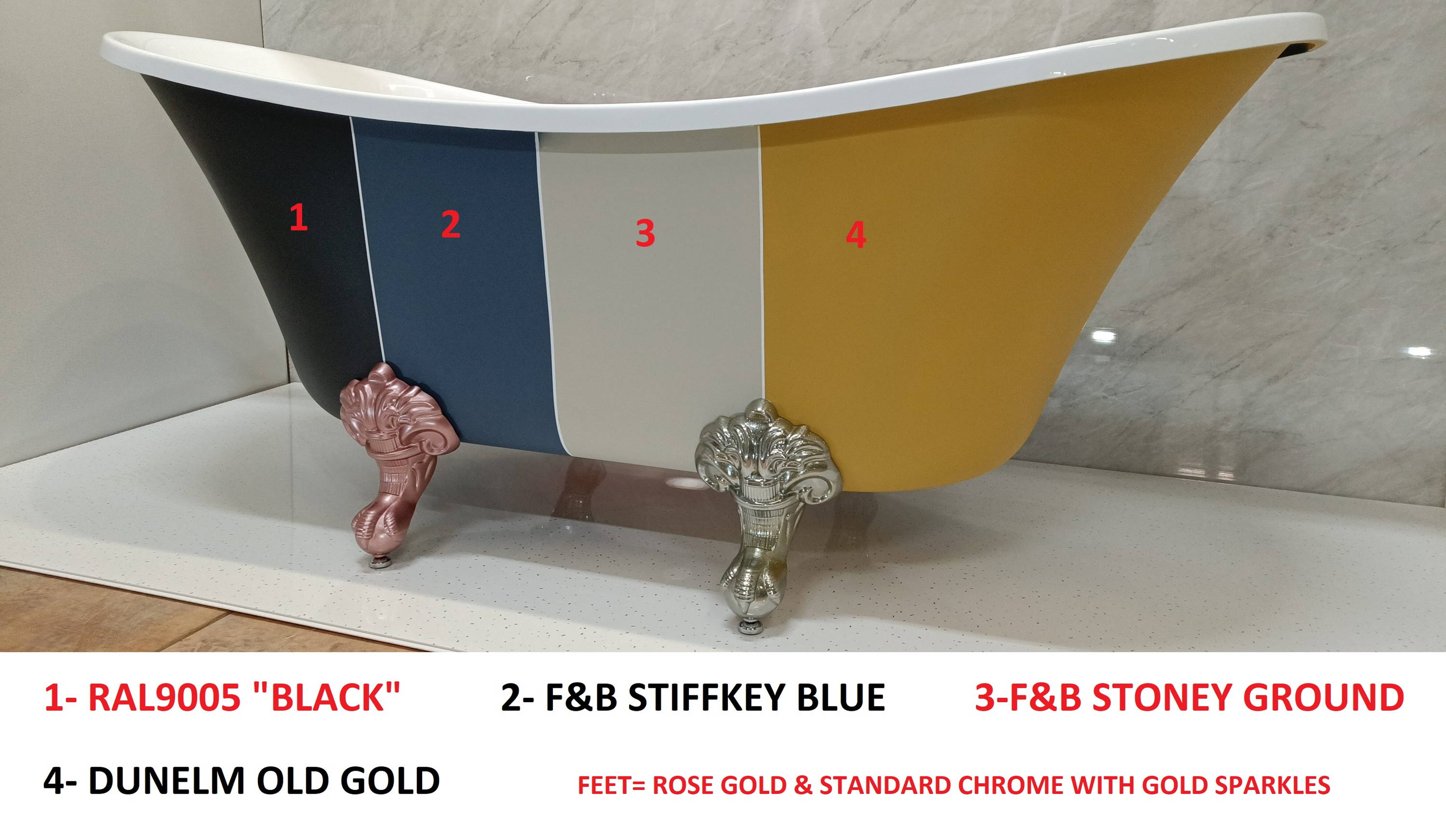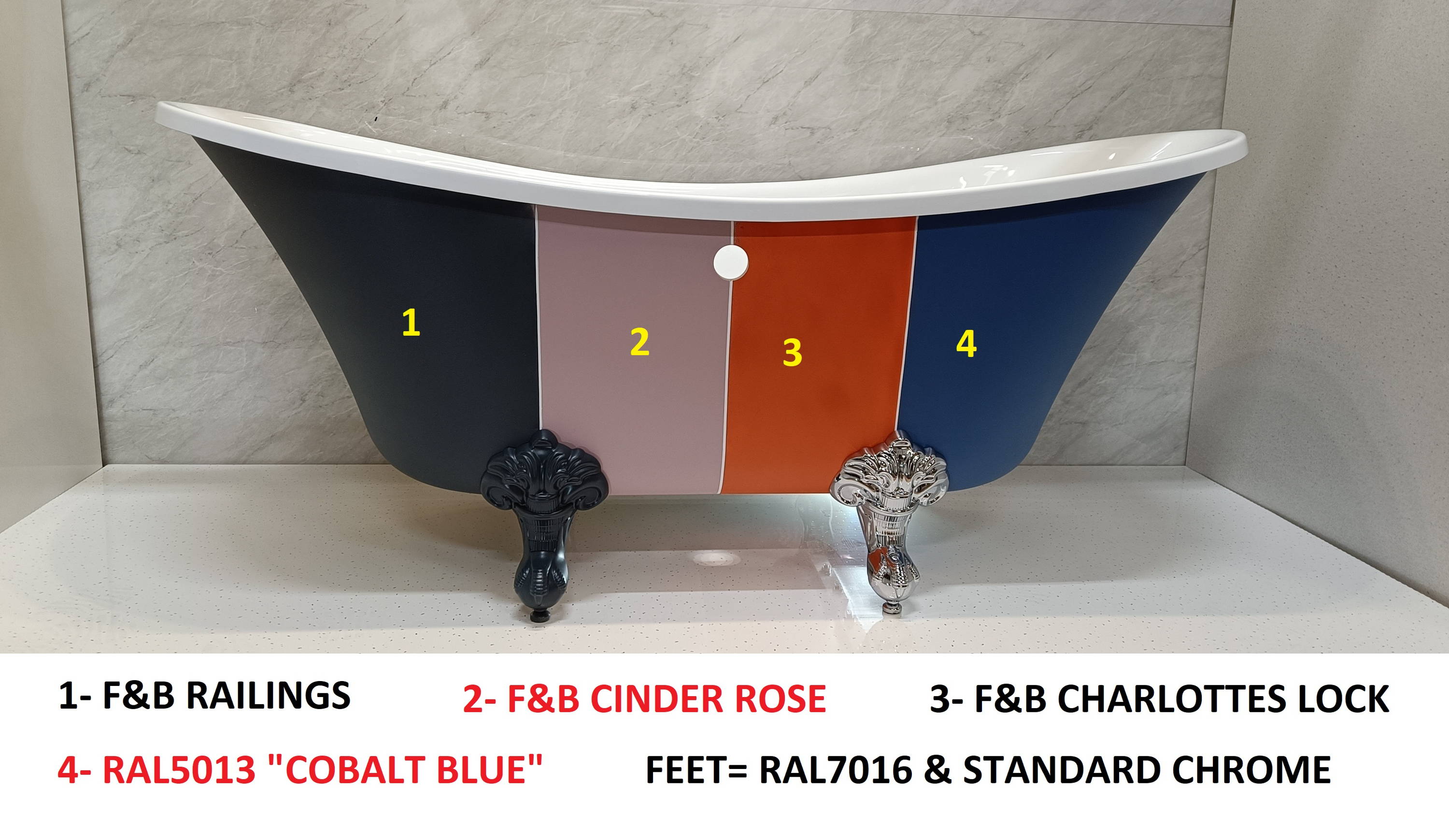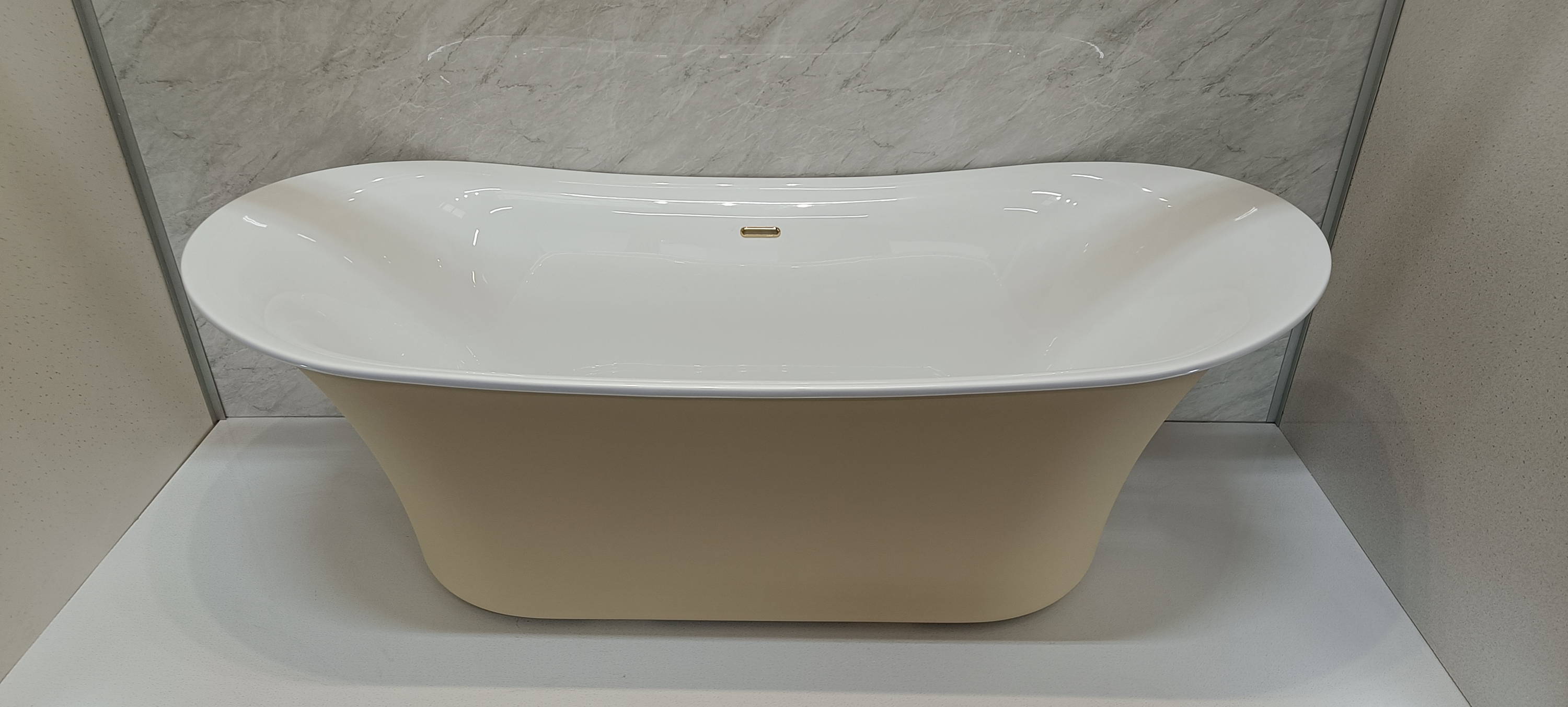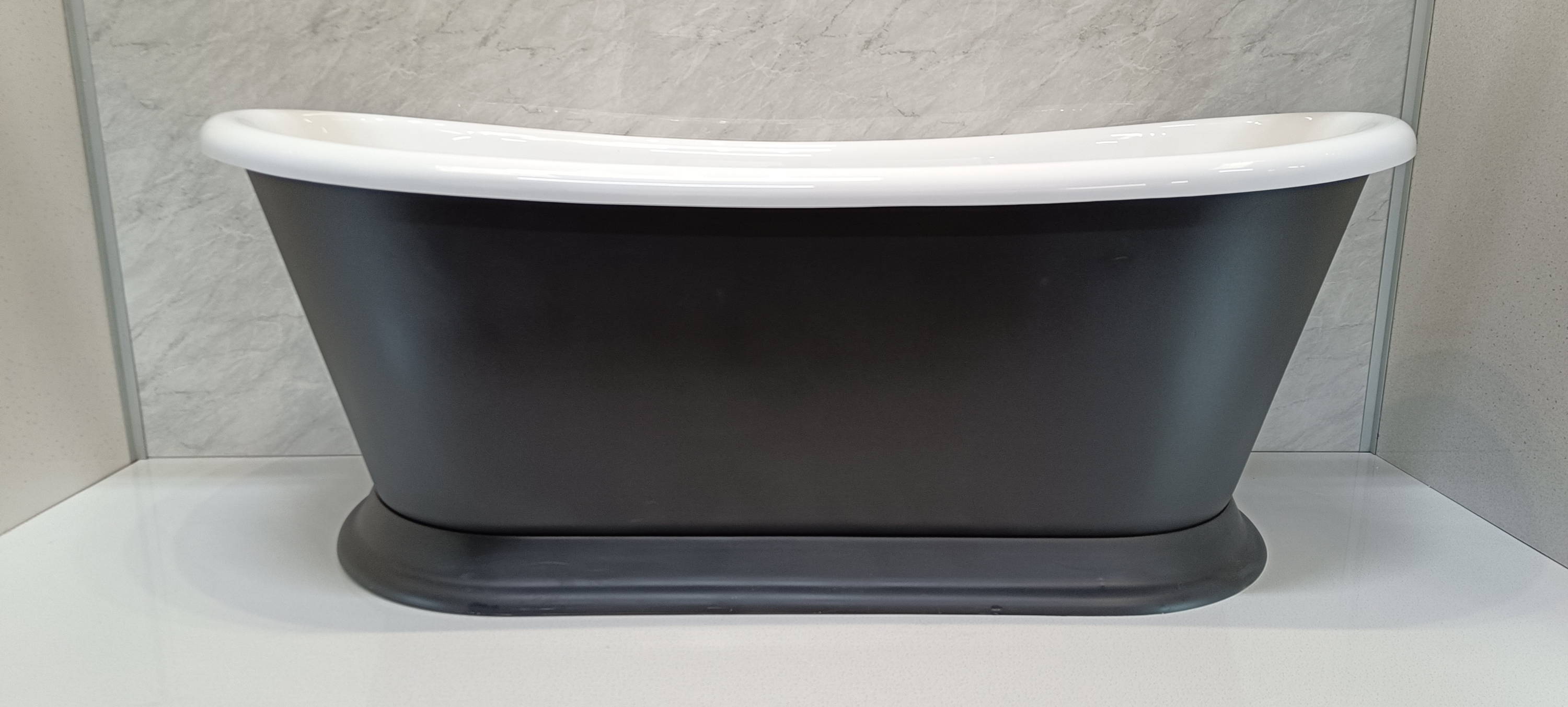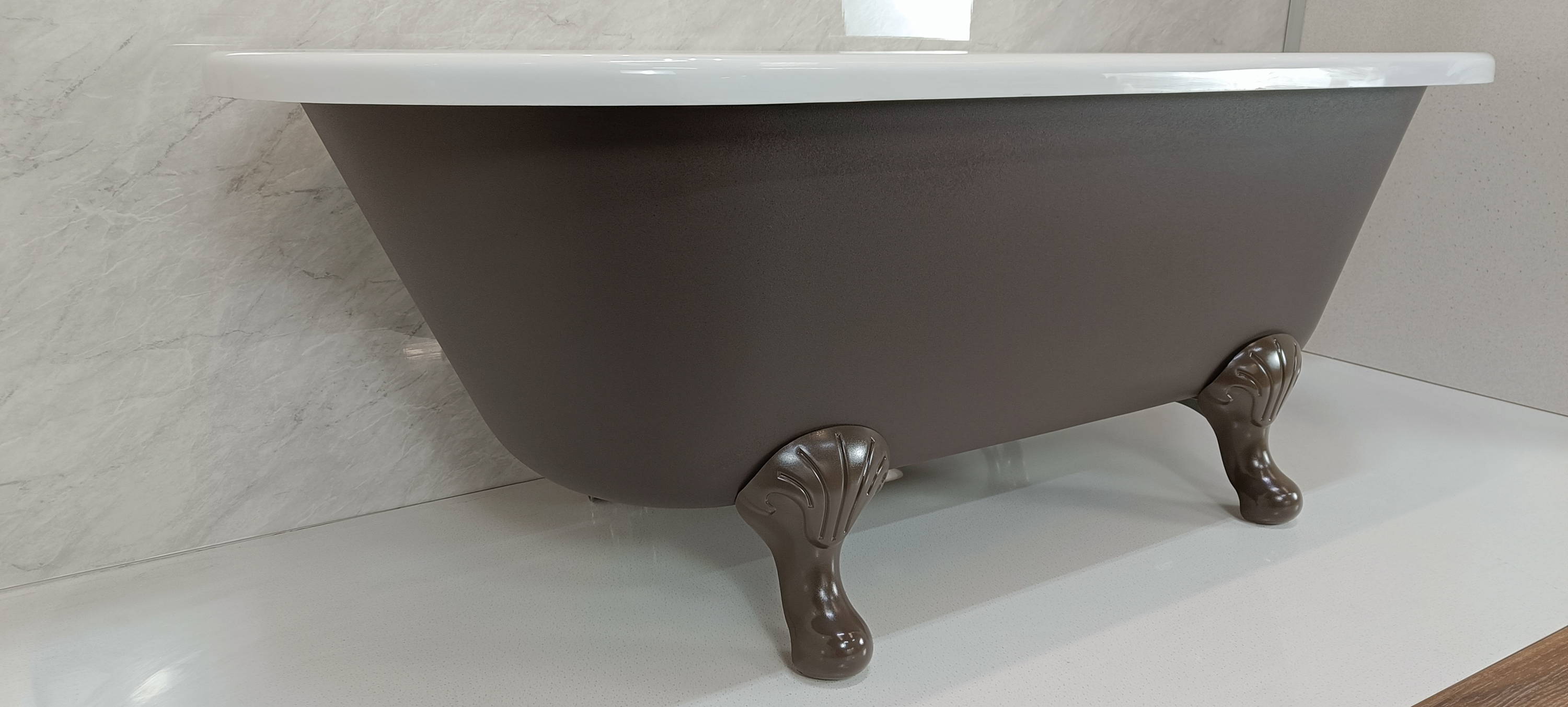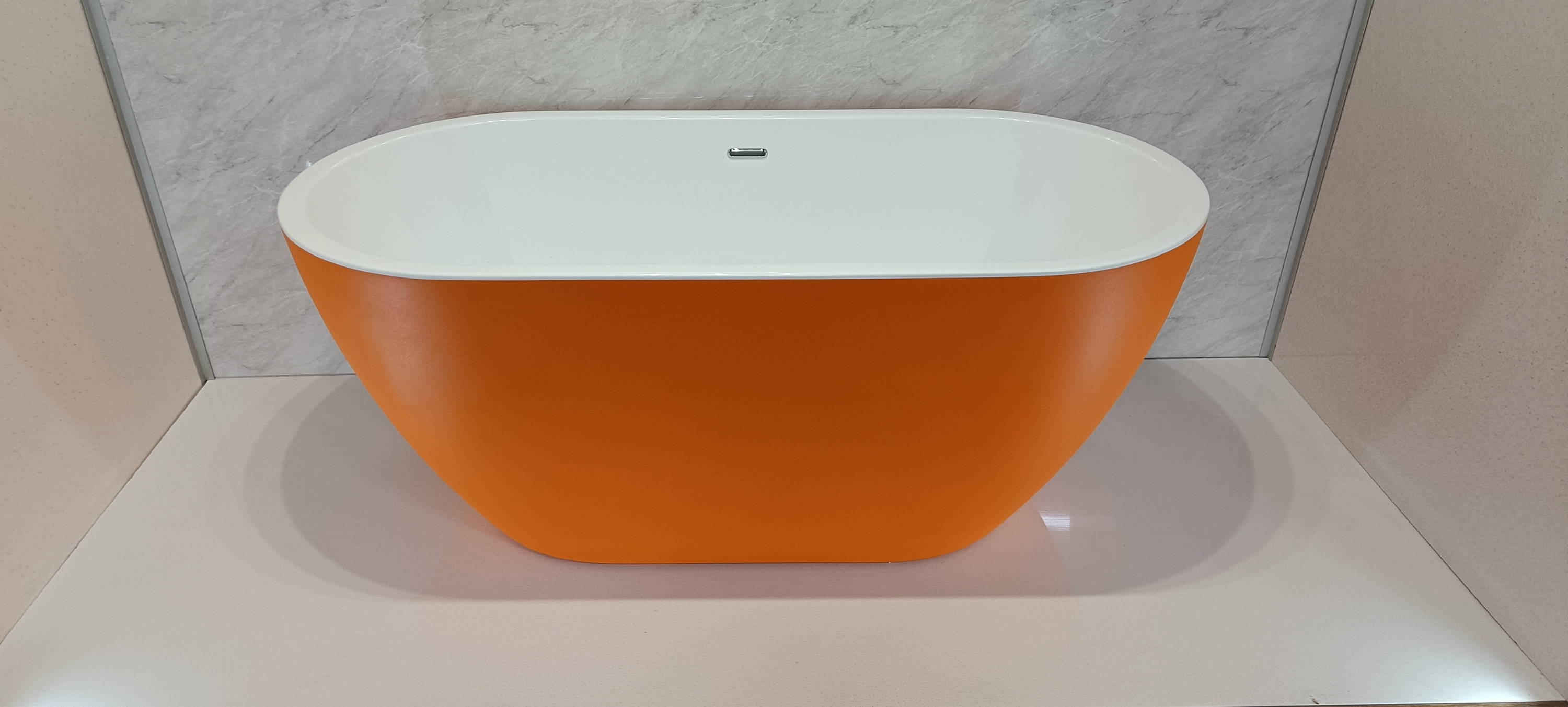 You can have the exterior of any bath we sell professionally spray painted in Farrow and Ball, Little Greene, Dulux  & RAL paints or any other suitable paint. Over 1500 Quality Paint Colours to Choose From! When we paint your bath with water and knock resistant eggshell paints from these leading, quality brands it will come to you with a depth of colour and exquisite matt finish that will make you want to sit on the bathroom floor just to spend time with it. It's that good! We can also paint any roll top bath feet to match or in a complementary colour.
How to Order a Painted Bath
The easiest way is the old fashioned way, give us a call and we can take your order over the phone. Alternatively just place the order on the web site choosing the 'painted exterior' finish option and we will contact you within 24 hours to take your choice of colour and arrange a delivery day. No money will be taken from your card until we have contacted you and confirmed all the details of your order.
Painted baths usually take between two and four weeks to deliver to you from ordering depending on how busy we are at the time you place your order. For the latest on lead times email or call us with your enquiry.
we start out by taking the bath and cleaning and sanding down the baths surface before applying a special trade level primer
once the primer has dried we then start building layers of paint, sanding and tacking off any dust between layers.  
The bath is then only complete when the surface is a smooth solid colour even when under a high lumen torch. depending on the bath we will then laquer around the edge of the paint line for extra protection.
What our Customers Say about Our Painted Baths
"Hi Rick - just a quick note to say a big thanks for the bath. It looks a million dollars and the bathroom fitters were so impressed with the quality and look. Thanks for the patience, advice and excellent service."
L.T., The Wirral; Blenheim single ended roll top painted in Farrow and Ball Cromarty No. 285 with white feet.
"Thanks Rick, we are really pleased with the bath and the excellent service provided - the paint finish is really good and has been much admired by all!"
Clare, Norfolk, Royce Morgan Lambeth Single Ended Roll Top Bath painted in Farrow and Ball Hardwick White No. 5
"Just to say and share with you that the vision we had for our bathroom (now finally complete/finished) is perfect. Of all that was involved with many parts and dealing with different providers/companies and people in various positions within, our experience of dealing with you Classical Baths was the only one that did exactly what you said you would and on time! ! The painted finish is excellent and as you can see we then matched cabinets mirror and finish from that to get our perfect bathroom."
Paul and Claire, Suffolk, Charlotte Edwards Harrow Bath painted in Little Greene Lamp Black No. 228
"The bath looks fantastic, just what I wanted, thank you so much."
Heyley, Burlington Bateau Bath Painted in Farrow and Ball Pink Ground No. 20
"Thanks you for all the help with the bath. It was superbly wrapped and once we got into it, the bath looks beautiful. Thanks again and a very happy new year. "
Mr K., Royce Morgan Notre Bath in F&B Vardo No.288
"Hi Rick, Apologies my delay in replying since the bath was delivered last week. I've only just had time to unwrap it and take a good look, and I have to say I am really pleased with it. The finish on the paint is really incredible, I can't wait to see it fitted in the finished bathroom. Many thanks for all your help with the measurements, pricing, etc. It was an absolute pleasure dealing with you and we just wanted to let you know how happy we are with the bath and the service from classical baths. All the best."
Mr Perrett, Burlington Hampton 1500 Shower Bath in F&B Pitch Black No. 256
"Hi Rick, The bath arrived this morning, as you advised - great quality and great service - much appreciated. All the very best."
Mr Parker, Clearwater Romano Grande Stone Cast Bath in Farrow and Ball Olive Green No.13
"Just a quick thank you for your superb service, the bath looks amazing."
Mr O. Bristol, Royce Morgan Kensington 1695. Bath and Feet in F&B Off-Black No. 57
"Very much appreciated Rick. Thanks a million. ps, just to let you know... everyone has commented on how lovely the bathtub is, and on the lovely paint job! Thanks again."
Ms. B., Classical Slipper 1550 in Farrow and Ball Pink Ground No. 202
"Just a note to say that we received the bath on Saturday, it is absolutely lovely, we are really happy with it."
Ms Casley, Chippenham, Burlington Bateau Bath Painted in Farrow and Ball Pelt No. 254
"I just wanted to say the bath arrived safe and sound and looking perfect. Thank you so much for your help and sage advice, and especially for getting the bath sorted and painted and to me so quickly."
Some of our Most Popular Colours
Here are some examples of the colours we have used most often:
and here are some of our favourites:
But all of them look fabulous.